Title:
Quiet Influence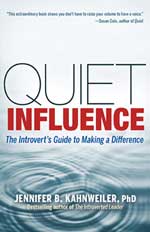 Author:
Jennifer Kahnweiler
Rating:
Great
BOOK GIVEAWAY: I will give away a copy of Quiet Influence. Please read the instructions below.
Reason for Reading:
I have been reading a series of books about introversion and leadership, such as Quiet by Susan Cain.
Format:
Softcover
Summary:
In Quiet Influence, Jennifer describes 6 leadership techniques that give introverts an advantage over extroverts. That's not to say that extroverts can not use these techniques, but these techniques tap into the natural strengths of introverts.
For example, introverts are naturally inclined to use engaged listening and focused conversations when relating to others. These can be powerful leadership actions. Also, introverts tend to prefer to communicate in writing, a critical ability in an increasingly visual world.
Throughout the book, Jennifer provides examples of leaders using these techniques to have influence over others, often in ways that can be overlooked in a cursory glance.
Review:
I like that Quiet Influence is a straightforward and relatable book with examples and suggestions for anyone trying to leverage their introverted nature to expand their influence. For each of the six tools Jennifer describes, she provides examples of how others have used it, and specific actions to apply them. Jennifer also provides a cautious voice to help the reader develop the sense for when they are overusing that tools, and the subsequent pitfalls.
For a book so full of wisdom and practical information, Quiet Influence by Jennifer Kahnweiler is a fun read for anyone interested in how introverts can serve as leaders in a world that too easily overlooks how their natural strengths can benefit everyone.
Joseph Iliff
BOOK GIVEAWAY: will give away a copy of Quiet Influence to someone who comments below with the answer to this question: How do use your introverted nature to lead others?
Other resources:
Author website:
http://jenniferkahnweiler.com/
Follow Jennifer Kahnweiler on Twitter @jennkahnweiler
Disclosure of Material Connection: I received this book free from the publisher
. I was not required to write a positive review. The opinions I have expressed are my own. I am disclosing this in accordance with the Federal Trade Commission's 16 CFR, Part 255 <
http://www.access.gpo.gov/nara/cfr/waisidx_03/16cfr255_03.html
> : "Guides Concerning the Use of Endorsements and Testimonials in Advertising."